Ace Axe 2024 US Championship
March 8, 2024 @ 7:00 pm

-

March 10, 2024 @ 6:00 pm

$120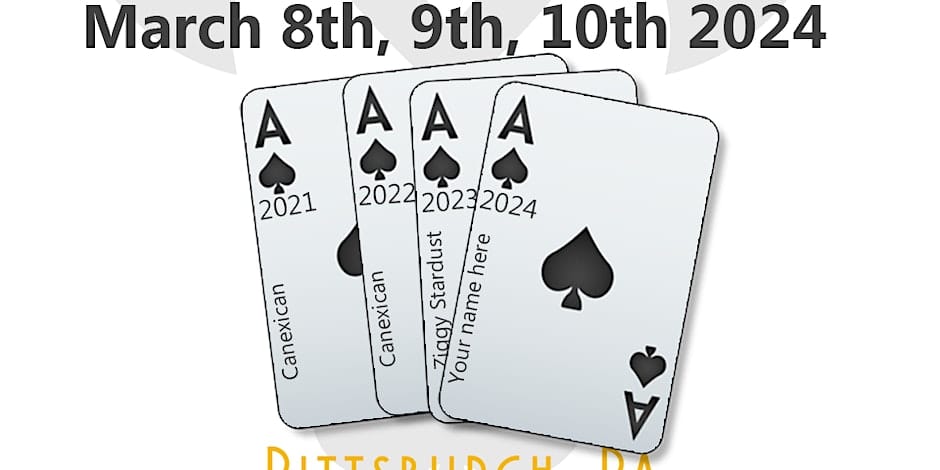 This event is open to all throwers!
This event is FIRST COME FIRST SERVE!
Prize pool will be determined by total number of throwers
NO REFUNDS. You may sell your ticket to another guest. Just email us to confirm transfer aceaxethrowing@gmail.com
Ace Axe Throwing Pittsburgh is excited to announce the dates for our annual Ace Axe U.S Championship. This event will be taking place the weekend of March 8th. The format is as follows:
Friday March 8th we will be hosting a seeding tournament for all main event participants. THIS EVENT IS NOT MANDATORY, but we heavily encourage people to sign up as it will determine your seeding for the main tournament the following day. If you cannot attend, you will be given a seed based on the order in which you signed up. Additionally we will be hosting an under 55 average double elimination tournament. Finals for the Under 55 will be held Saturday afternoon before the finals of the Main Event. You CANNOT throw in both the Under 55 tournament & Seeding event.
Saturday March 9th will be the main Ace US Championship event. It will follow the same format as we have in recent years. Double elimination style tournament with premier rules for the duration of the tournament. The Under 55 finals will finish before the Main Event finals.
Sunday March 10th will be similar to last year's skills event. This will be hosted at Chill Axe and will include separate tournaments for Random Doubles and Blackjack.
This championship will feature:
Double elimination
Premier style rules
Full bar onsite
Concession food available onsite
Outside food & alcohol is prohibited.
Spectators are all welcome free of charge
This event will be in person for the throwers but also professionally streamed online via YouTube to the axe throwing community.
Hotels are available nearby.
We own an Airbnb (6 bed / 3 full bath) in Southside about 10 minutes from our venue. Text 412-447-1721 to book.
Holiday Inn Express | (412) 205-3904
658 Waterfront Dr, Munhall, PA 15120
Hampton Inn & Suites Pittsburgh/Waterfront-West Homestead | (412) 462-4226
301 W Waterfront Dr, West Homestead, PA 15120
Courtyard by Marriott | (412) 462-7301
401 W Waterfront Dr, West Homestead, PA 15120
Related Events