2nd Annual Capitol City Classic
February 16 @ 4:00 pm

-

February 19 @ 10:00 pm

$60 – $120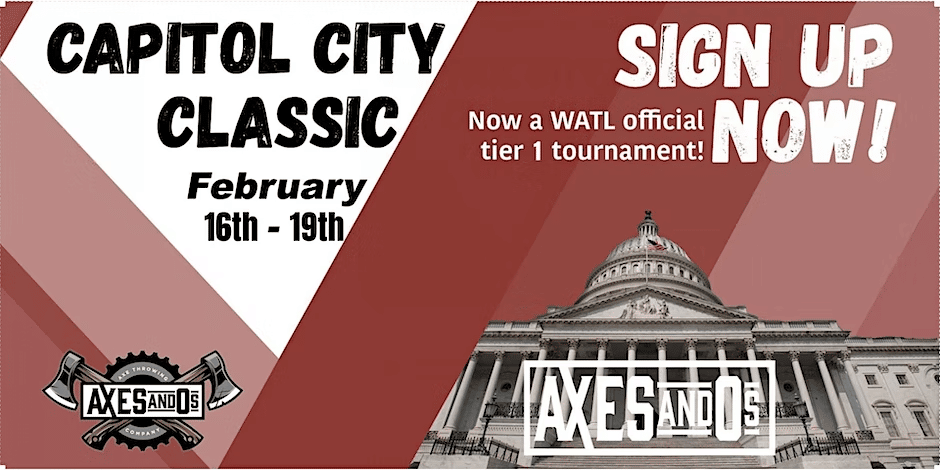 Please join us for our 2nd annual Capitol City Classic Tournament at Axes and Os from February 16-19, 2023 at Axes and Os in Sterling, VA!
Axes and Os is honored to have been selected to host the 2nd Annual Capitol City Classic Tournament from February 16th-19th, 2023 in Sterling, VA! This year we have been reclassified as a Tier 1 tournament (which means 40% of tournament entry fees will go towards payout for tournament winners).
The (newly updated) schedule will be as follows:
Thursday, February 16th: Meet & Greet, Makers Market (details TBD), Buy-in Skills Tournament (details TBD). Doors open at 4pm.
Friday, February 17th: Registration/Check-in for Big Axe & Knives at 11am. Big Axe Tournament begins at 12pm. Knife Tournament begins after Big Axe (approx. 5pm). Venue Party will be afterwards, details on party to come.
Saturday, February 18th: Registration/Check-in for Hatchet at 10am. Hatchet tournament starts at 11am.
Sunday, February 19th: Registration/Check-in for Duals at 9am. Duals Tournament begins at 10am. Back lanes will be available for practice for all finals competitors only. Finals for all four disciplines immediately following Duals. (Duals Finals, Knife Finals, Big Axe Finals, Hatchet Finals)
Volunteer Judges: as with any tournament, we will happily accept any volunteer WATL & WKTL certified judges! We will have one person assigned as the designated contact and will post a sign-up list for those that are certified. Last year, we had a phenomenally organized system and plan to utilize the same system again this year. We also really need WKTL certified judges for the buy-in skills tournament on February 16th.
Sponsorship Opportunities: we are looking for sponsors of various denominations (tiers/details coming soon), so if you are interested in a sponsorship opportunity, please contact the venue owner, Tara Hampton, at events@axesandos.com!
Important to Note: We are currently working with local hotels to get a block at a discounted price, so stay tuned to CCC on Facebook for updates. Pricing for open practice is $10/person per hour (based on availability). Axes and Os has delicious food, a bar with 20 taps full of local and popular beer, a fantastic selection of wine, cider, seltzer, canned cocktails and wine cocktails, as well as plenty of options for non-alcoholic beverages. We have ample free parking and are in very close proximity to plenty of breweries, wineries, restaurants, bars, shops and tourist attractions (Washington DC is an approximately 45-minute drive from the venue). Public transportation is plentiful – metro, bus, uber, lyft, taxi, (we are also hoping the hotel we choose offers a free shuttle to and from the venue). Covid-19 policy: unlike last year, masks are not required for those that are vaccinated. Masks are strongly encouraged for those that are unvaccinated or immuno-compromised.
Related Events